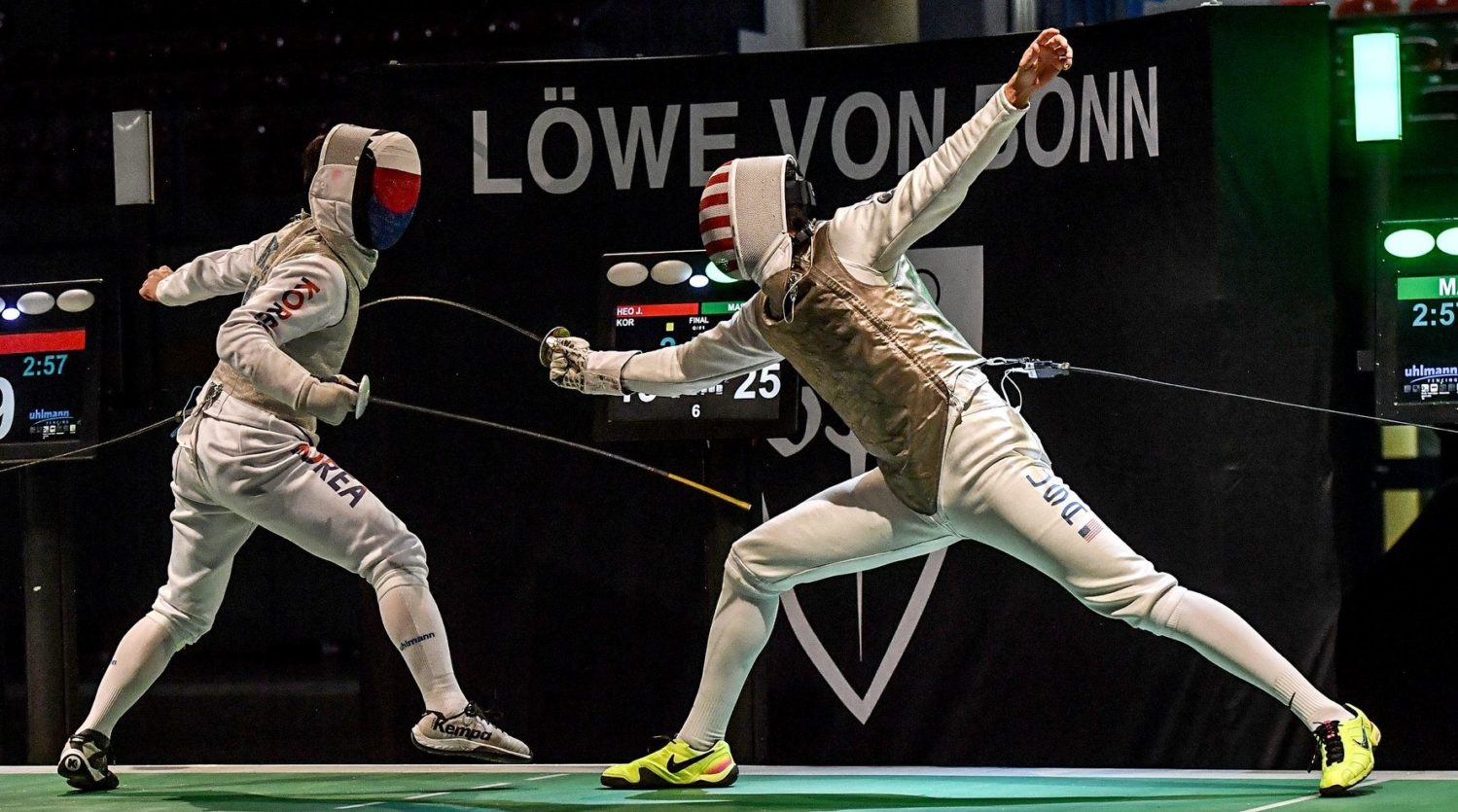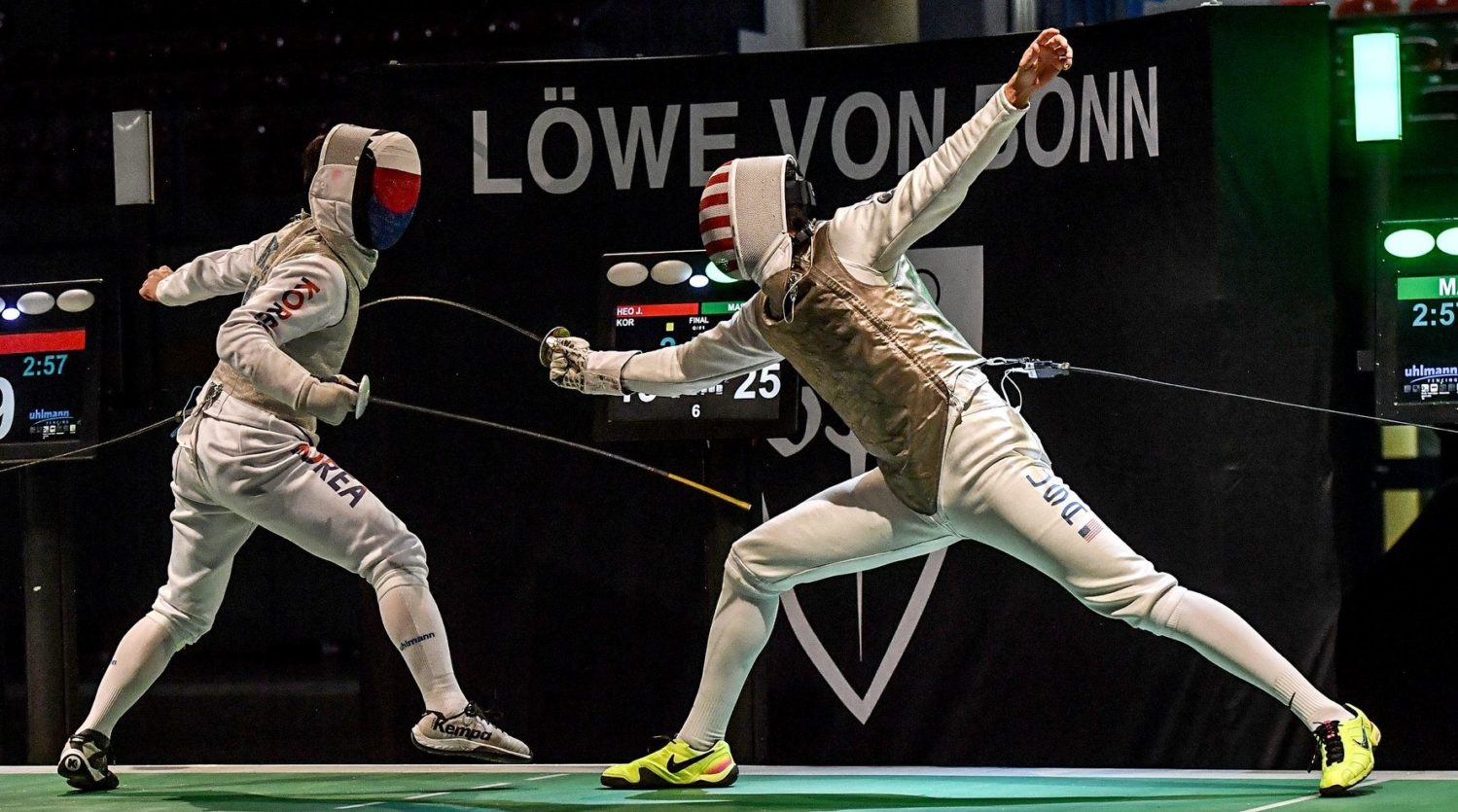 Korea vs USA; Bonn Men's Foil Finals; c/o FIE.org, Augusto Bizzi
The first men's foil World Cup event of the season in
Bonn, Germany has produced a second career World Cup win for France's Julien
Mertine and a superb team performance by USA, who affirmed their favoritism
ahead of Tokyo 2020.
The USA men's foil team of Race Imboden, Alexander Massialas, Nick Itkin and Gerek Meinhardt has cemented its position at the top of the FIE world rankings this weekend, defeating Korea 45-31 in the final to win Gold at the first World Cup event of the season in Bonn.
With 20-year-old Itkin
replacing Miles Chamley-Watson in
the line-up, Meinhardt, who won silver in the individual competition, was used
as the reserve. Never headed after Imboden took a 5-4 lead in the first bout,
it was Itkin who extended the lead to 15-7 against Jun Heo, and then to 35-26 over Young Ki Son, to all but ensure Imboben and then Massialas could
close out the win.
Earlier they had defeated Russia 45-42 in their semifinal bout, Itkin played a key role in bringing USA back up to level at 33-33, before his teammates were able to ensure passage to the Gold medal match with Korea.
In their upset over Italy in the other semi, 45-37, it was Kwanghyun Lee who had been vital, achieving a TR of +10 over the highly-rated combination of Giorgio Avola, Alessio Foconi and Daniele Garozzo.
The team win puts USA in the
box seat for Olympic qualification, and increases their lead on the FIE's
ranking table over France, Hong Kong and Italy, who sit fourth.
In the individual competition
the day before, France's Julien Mertine,
whose world ranking has fluctuated well outside the world's top 50, was the
beneficiary of a bottom-half of the draw that opened up after the shock exit of
world number two Race Imboden at the table of 64. He lost to world number 38 Daniel Dosa from Hungary (15-10), in
what has to be an early candidate for upset of the season.
Mertine then defeated
Imboden's teammate Massialas (15-11) before taking care of his own highly
accomplished countryman, Erwann Le
Pechoux, 15-10 in the table of 16. This advanced him to the quarterfinal
against Germany's Benjamin Kleinbrink,
which he won easily, 15-3. In his semifinal Mertine defeated celebrated Italian
opponent Andrea Cassara, 15-10.
Meanwhile, Meinhardt had to
defeat both of Italy's most recently decorated fencers, current Olympic
champion Daniele Garozzo, 15-9, in
the quarterfinal, followed by 2018 World Champion and current number one, Alessio Foconi, 15-12, to reach the
gold medal match.
He dropped that, 15-9 to the Frenchman, but the Silver was only his second in individual competition, following up the one he won in Paris at the beginning of the year, when he lost to Foconi in the final, 12-15. On that day, Imboden had stood on the dais with him, along with another Italian, Giorgio Avola.
RESULTS
Individual
Julien Mertine (FRA) – Gold
Gerek Meinhardt (USA) – Silver
Andrea Cassara (ITA) – Bronze
Alessio Foconi (ITA) – Bronze
Daniele Garozzo (ITA)
Kyosuke Matsuyama (JAP)
Benjamin Kleibrink (GER)
Carlos Llavador (SPA)
Team
USA – Gold
Korea – Silver
Russia – Bronze
Italy
France
Hong Kong
Japan
Germany